Transcript of Records
You can open the application Transcript of Records via the application menu on your personal Home Screen.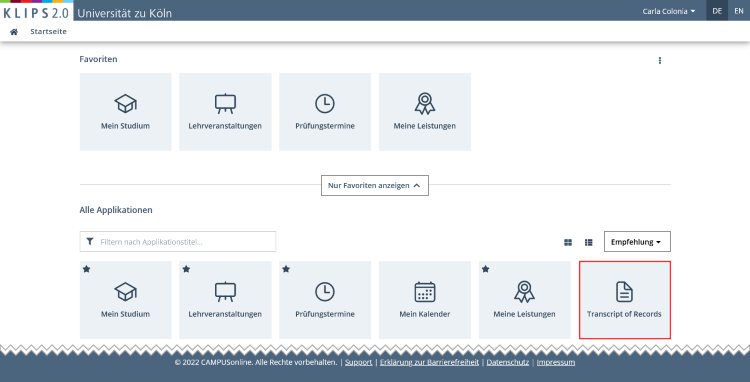 The application Transcript of Records is used to print your transcript of records (with passed and failed achievements in your degree programme).
How to Print your Transcript
1. In the column Print Transcript, choose the (partial) degree programme for which you want to print a transcript.

2. To print the transcript, click the printer icon.
3. The transcript of records opens in a PDF. Please save the transcript.
Please note: This transcript is electronically signed and valid in digital form. In paper form, this document is valid without signature, but only with the seal affixed. If you're experiencing problems with the electronic signature, please click here for help.
Additional Information:
In order to use this self service application, you must fulfill the following prerequisites:
You are currently a registered student at the UoC.
The desired (partial) degree programme is managed in KLIPS 2.0 and there are valid results available for you.