Guest Students
1. Go to the homepage of the Application Wizard.
2. Chose when you would like to commence your studies by clicking on Start of Course and then click on continue.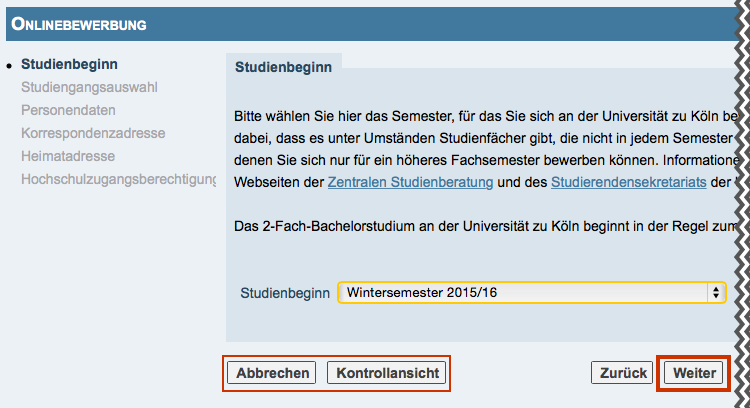 Please note: Using cancel and preview, you can discontinue the process at anytime or check the information you have entered so far in the Application Wizard.
3. Enter the relevant information in "Select degree program" and then click on Continue.
Chose in both
and "Guest Student Program".
In
, choose the faculty where you intend to attend the most courses (e.g. the Humanwissenschaftliche Fakultät – these options are in German). This does not mean that may only attend courses at the chosen faculty – you may attend courses at other faculties.
In
, chose "1 – Unrestricted admission" and in "No certificate/degree".
And as
"no degree/certificate".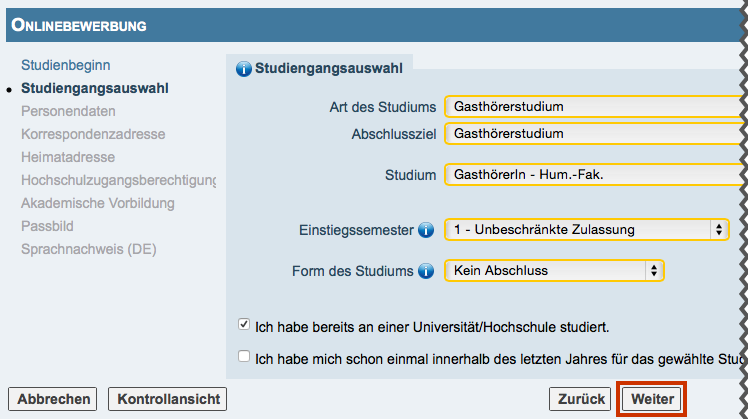 4. In the "Personal Data" section, the information you entered when setting up the applicant account will be shown. Please complete the information and click on Continue.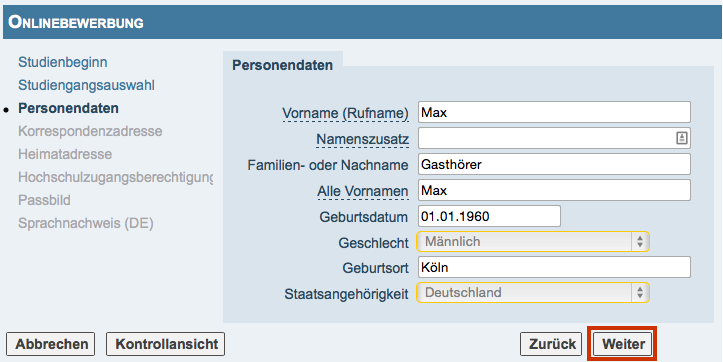 5. On the "correspondence address" and "home address" pages, please enter all the required information in all the yellow-framed fields. If you home and correspondence address are the same, you can note this on the "correspondence page" and will not have to enter your address again.
6. In the next step, you will see an overview of your application. Please make sure that all information is correct.
Click on

Back

to correct any incorrect information (your information will not be lost).
Please tick the box at the end of the preview and click on

send

to submit your details.
Please note: You may no longer correct your information after your application has been made.

7. Continue to see the status of your application.
8. As a guest-student, you will automatically be enrolled as all prerequisites are fulfilled. In order for you to be able to receive a registration number automatically, you will automatically accept a study place in the KLIPS system. In the "Study Place Offer" section, you can download your notification.
Please note: Your registration number can be found on the admission notification on the bottom right-hand side as well as on the application for admission under the Link Semester Fee.

9. In the section "Enrollment", click on Social Fee.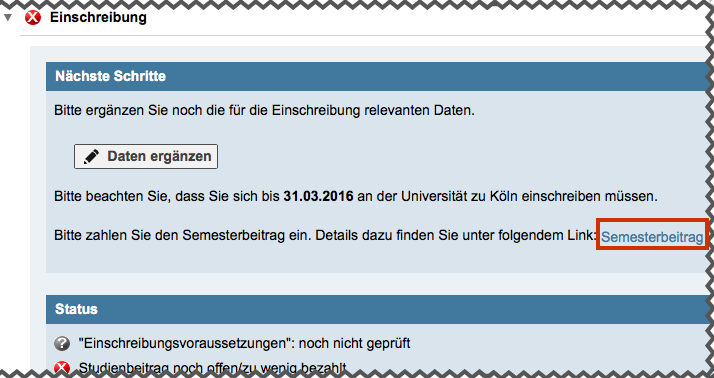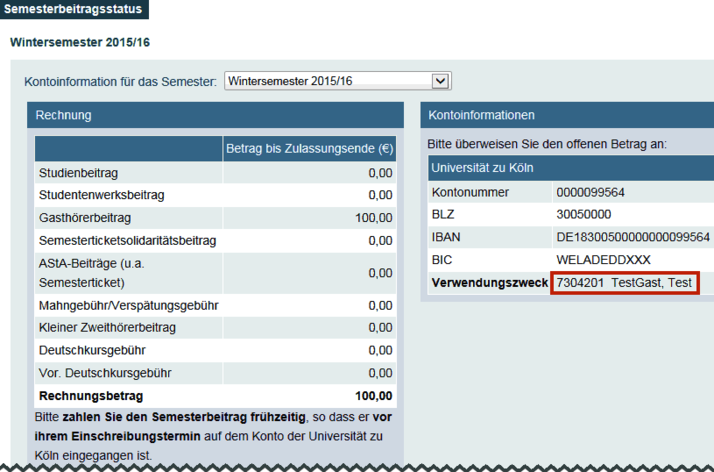 Please note: Please ensure that you enter the correct information in reason for payment.
10. Please transfer Euro 100.00 for the semester fee to the following bank account, which can be found in the "Social Fee Status" window:
Bank account:
Recipient: Universität zu Köln
Account Number: 99 564 (IBAN: DE18 3005 0000 0000 0995 64)
Sorting Code : 300 500 00 (BIC: WELADEDD XXX)
Bank: Helaba (Landesbank Hessen-Thüringen)
For reason of payment, please enter: registration number, surname, name.
As soon as the fee is registered in KLIPS 2.0, you will receive your guest student identification per post.
11. By clicking on My Applications you will be directed to an overview of all your applications.

12. You can check the status of your application by clicking on the

icon in "My Applications" under "Operations". By clicking on the

icon, you will see a summary of your application.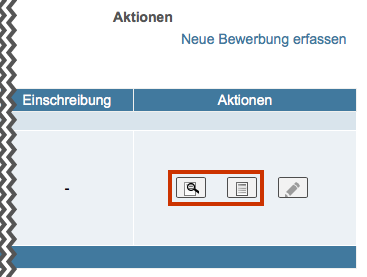 13. Your online application is now complete. You can log out or start another application.
Please note: After the deadline, you will receive your admission notice. All unsuccessful applicants will be informed in writing after clearing.