UCCard Photo Upload
The UCCard is the new student card of the University of Cologne. More detailed information can be found here. For identification, the UCCard has a photo which can be uploaded in KLIPS 2.0.
For further questions, please contact UCCard-Support, which can be found here:
Studierenden Service Center
1st floor, Room 1.303
Universitätsstraße 22a
50937 Köln

Office hours: Mon. - Fri. 9:30 am - 12:30 pm
email: uccard@verw.uni-koeln.de

In case of queries please always provide your student-ID (Matrikelnummer) as we can read your data only on the basis of student-ID.
Uploading a new photo
1. Open the homepage of KLIPS 2.0 via
https://klips2.uni-koeln.de.
2. Click on the log-in-button at the top right of the page and enter the username and the password of your student account (Smail-Account).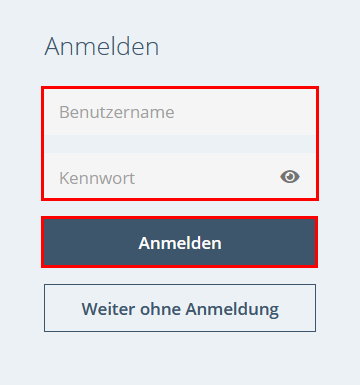 Please note: More detailed information about your student account can be found on the websites of theRegionalen Rechenzentrums Köln (RRZK). If you forget your password, please contact the RRZK-Helpdesk..
3. After logging in, go to your personal business card. This business card is the key element of your account in KLIPS 2.0. From here you can manage all relevant data and applications. In the chapter Business card, you will find detailed information about the structure and function of the personal business card.
Please note: The photo that you upload for your business card does not function as the photo for the UCCard. Information on uploading photos for your business card can be found here. How to upload a photo for the UCCard is explained in the following.
4. Please click on the application Student Card Image Upload in the application menu.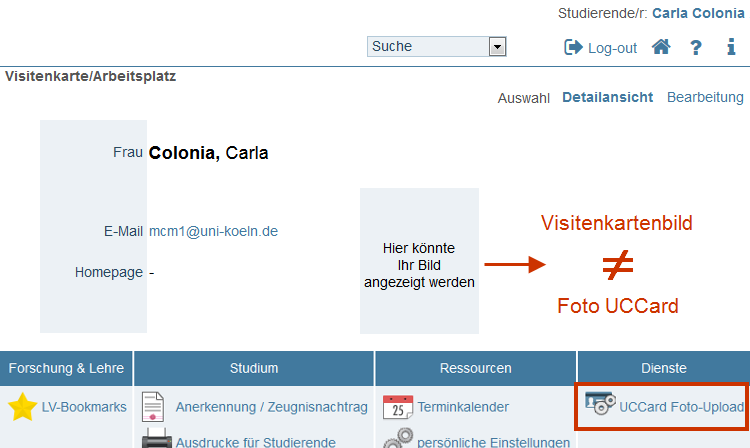 5. The window "UCCard photo upload" will open. Please click on Select to select a photo.
Please note: In some browsers the button is marked as "Choose File".

Please note: Make sure to check the information about the file size, image size and the file format. If your photo was taken with a smartphone, please make sure to use a low camera resolution (0.5 megapixels is enough). Most smartphones exceed this resolution so ensure that the maximum file size does not exceed 500 kB.
Please note: Due to the fact that the UCCard not only serves as a travel ticket but also as an exam identification in some faculties, it is important that the picture you choose is not only current but also one that can be identified. Other requirements for the photo can be found here.
6. The file name will be displayed after the selection. Please click Continue.

7. The uploaded photo will be displayed. Deviating image sizes (wide x height in pixels) will not be displayed properly by KLIPS 2.0.
If your image is not depicted properly, please click on

Back

and upload another photo. Please note the information of the following page: UCCard-How to upload your photo.
If your image is depicted properly, please click on

Continue

.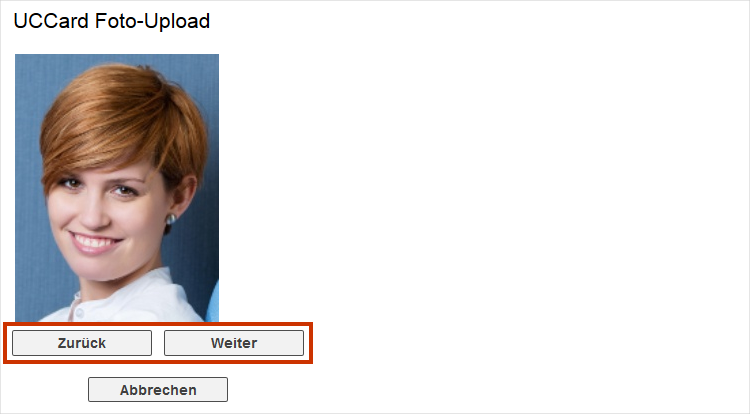 8. To confirm your choice, click on Continue once again.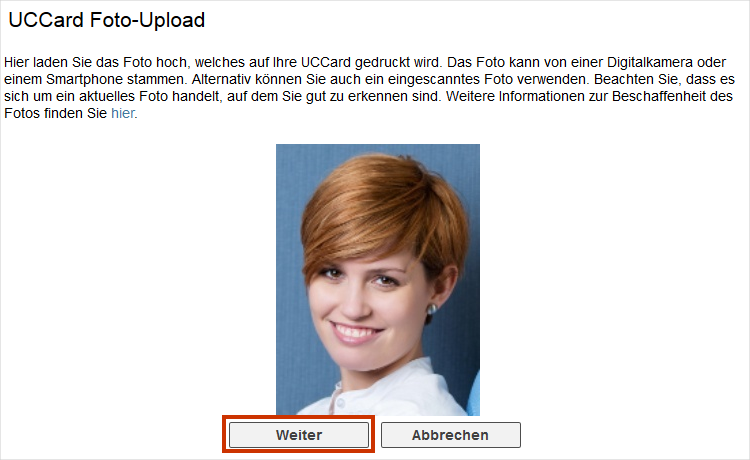 9. Your photo for the UCCard is now saved. You will be notified via e-mail as soon as your UCCard is ready to be sent to you. To finish, click on Close. You will be redirected to your personal business card.
Exchanging an existing photo
1. Please perform the steps shown above in the instruction "Uploading a new photo" (steps 1 until 6)
2. Now, both photos will be opposed.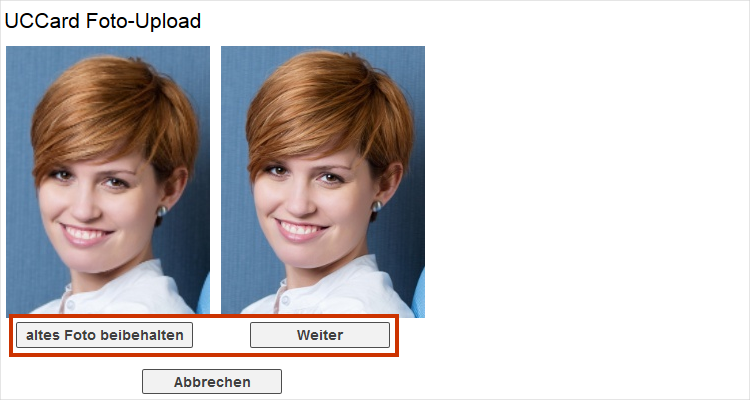 [This content is not available in "Englisch" yet]
3. Wählen Sie eine der folgenden Optionen:
Wenn Sie das alte Foto (links) durch das neue Foto (rechts) ersetzen möchten, klicken Sie auf die Schaltfläche

Weiter

. Führen abschließend Sie die Schritte 8 und 9 der Anleitung "Neues Foto hochladen" aus.
Wenn Sie das alte Foto (links) beibehalten möchten, klicken Sie auf die Schaltfläche

altes Foto beibehalten

. und schließen Sie im Anschluss das Fenster über die Schaltfläche

Abbrechen

.
Foto Studierende: © contrastwerkstatt - Fotolia.com
Hinweis: Ihr hochgeladenes Foto zur Erstellung der UCCard wird 6 Wochen nach dem Zeitpunkt des Hochladens unwiederbringlich gelöscht, sofern Ihre UCCard zu diesem Zeitpunkt produziert ist.