Printing Documents
Printing Documents
The Print Documents application can be found in your personal business card.
The Print Documents application enables you to print out your confirmation of enrollment.
Please note: The confirmation of enrollment along with your student card are proof of your enrollment at the University of Cologne. In addition to your name and date and place of birth, all the relevant information pertaining to your degree programme is included on the documentation, including, for example, your registration number, the type of degree you are studying for, the semester you are in as well as how long the programme takes. The document is automatically generated and therefore valid without a signature. It is also valid for submission to the BAföG-Amt (nach § 9 BAföG).
1. Choose the relevant semester in Semester.
2. In Language, choose German or English.
3. To print the document, click on print.

4. The certificate of enrollment will open as a PDF in a new window. You can also save the document.
Please note: On the document, there is a Verification Number that can be verified at http://uni-koeln.de/verify.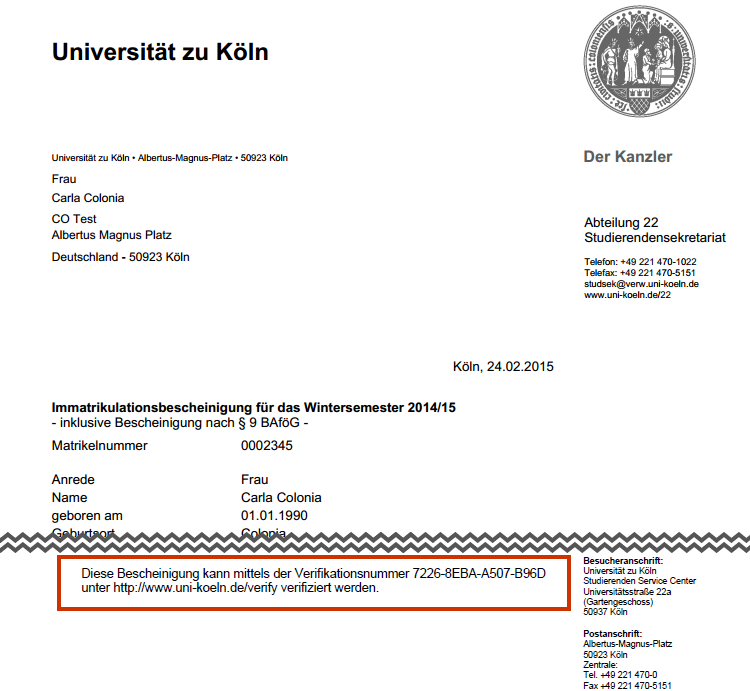 Please note:
To use this application, you must fulfill the following prerequisites:
You are currently a registered student at the UoC.
You have paid the semester fee.
This application is not available for:
Students who have not been registered at the UoC for a period longer than one year,
Kleine Zweithörer/innen.