Registering for Exams
To register for exams, please use the Exam Registration application on your personal business card.
1. Click on Exam Registration in the Application menu.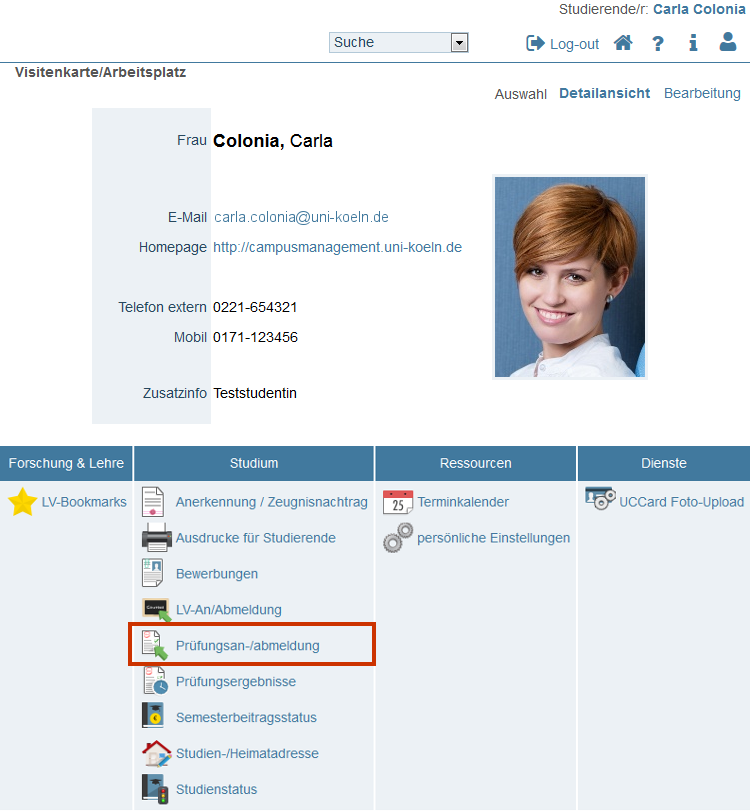 2. The Exam Registration application will open.
Please note: In the application, there are four tabs. In the 1st tab "My exams", all exam dates of exams you have registered for are shown."Registration via curriculum (recommended)" allows you to register for exams. The third tab allows you to search for exams and the fourth you can change your settings.

3. To register for exams, click on the second tab "Registration via curriculum (recommended)".
The Registration Status will open. In a tabular overview, you will find your degree programme (highlighted in yellow in the screen shot below) as well as the individual subjects of your degree.

Please note: If you are a MA student, your Bachelor studies will also be displayed in this application if you completed your undergraduate studies at the University of Cologne. In this case, follow the columns "Name of Study Programme", "Status" (registered or closed) and "Entrance Semester".
For Students studying to become teachers: To register for final module exams in the Module "Vorbereitung Praxissemester (Preparation Semester)", click on your degree programme. The curriculum will open in "Curriculum Support". Go to the "Modulabschlussprüfung --> Praxissemester LA MA (both Lehramt) > BM Vorbereitung Praxissemester > Modulabschlussprüfung" at the bottom of the list in the curriculum structure.
Follow the rest of the steps listed below.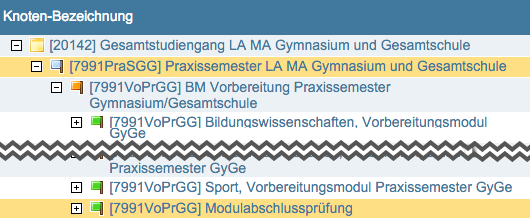 4. To see the curriculum of part of a degree programme, click on the column "study Plan" on the corresponding version of the examination regulations of your degree programme, e.g. 20142.
5. The curriculum will then be opened in a tree structure in "Curriculum Support".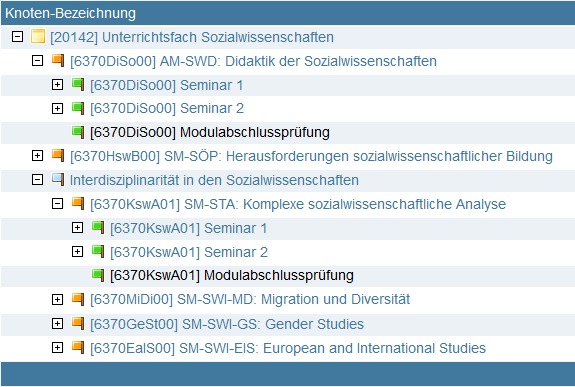 Please note: You can expand or collapse the curriculum structure by clicking on the +/- symbols.
6. To register for an exam within the registration period, use the curriculum structure to find the exam and click on the green arrow beside the title of the exam.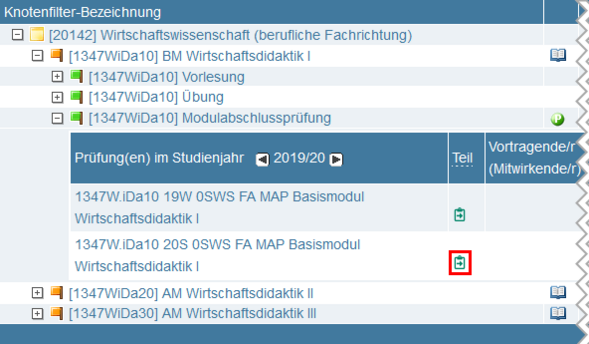 7. The window "Exam Dates" will open. If there are multiple times/dates for an example, you can click on one only.
8. Click on Register.
The window "Exam Registration" will open.
9. Click on Register to register as a candidate for the exam.
Click on Cancel if you do not wish to continue.
10. The page will update and you may print out the exam registration if you wish.
Close the window - your registration has been a success.
11. In the first tab "My Exams, the Exam Registration application will show the exams for which you have registered.