Registering for Exams
To register for exams, please use the Exam Registration application on your Personal Business Card.
1. Click on the Exam Registration application in the Application Menu.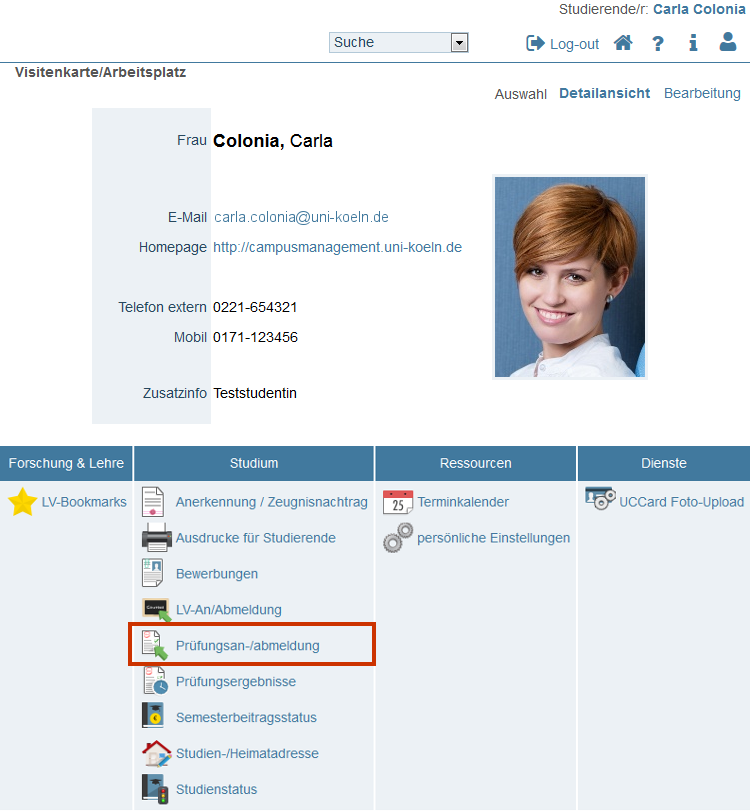 2. The Exam Registration application will open.
Please note: In the application, there are four tabs. In the first tab "My Exams", all exam dates of exams you have registered for are shown."Registration via Curriculum (Recommended)" allows you to register for exams. The third tab allows you to search for exams and in the fourth you can change your settings.

3. To register for exams, click on the second tab "Registration via Curriculum (Recommended)".
The Registration Status will open. In a tabular overview, you will find your degree programme (highlighted in yellow in the screenshot below) as well as the individual subjects of your degree.

4. To see the curriculum of one of your degree programme's subjects, click on the corresponding version of the examination regulations of your degree programme in the column "Curriculum", e.g. 20142.
5. The curriculum will open in a tree structure in the "Curriculum Support" window. You can expand or collapse the curriculum structure by clicking on the "+/-"-Symbols.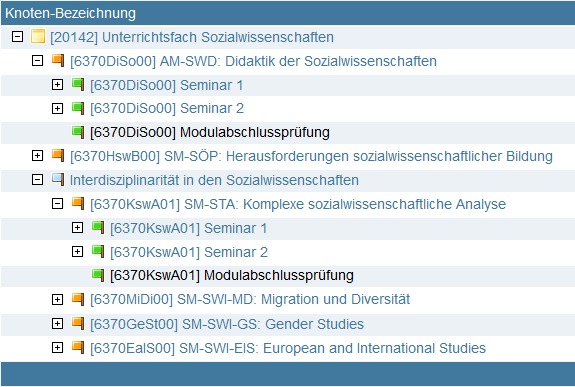 Please note:

In some cases, ...

the notification "Calculation of results not completed yet" appears above your registration status. In this case, opening the tree structure is temporarily impossible. Normally, the calculation of your results should be completed overnight.

individual module and exam nodes will not be shown. In this case, the missing nodes are possibly inactive. More information about inactive nodes can be found here.
6. To register for an exam within the registration period, use the curriculum structure to find the exam and click on the green arrow (

) beside the title of the exam.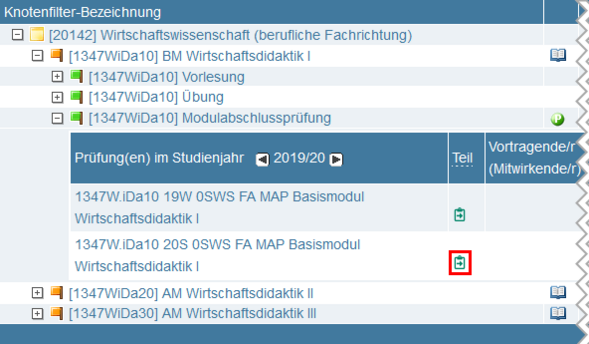 7. The window "Exam Dates for this Course" will open. If there are multiple times/dates for an exam, you can register for only one.
8. Click on Register. The window "Exam Registration" will open.
9. Click on Register to register as a candidate for the exam. Click on Cancel/Close if you do not wish to continue.
10. The page will update and you may print out the exam registration if you wish. Close the window - your registration has been successful.
11. In the first tab "My Exams", the Exam Registration application will show the exams for which you have registered.