Organizing Course Bookmarks
Course bookmarks are bookmarks of courses you are interested in (similar to bookmarks of a web browser). These bookmarks are collected and can be viewed in your Course Bookmark list.
You can activation notifications about the courses in your bookmark list. As soon as something changes about the course, you will be informed per e-mail.
You will receive information if:
if the amount of participants of allowed to take part in a course has been increased,
if an additional course groups has been added to a course,
if a registrations deadline has been changed or
if additional information about a course has been entered into KLIPS 2.0.
Standardeinstellungen festlegen
Please note: It makes sense to configure your course bookmarks settings before bookmarking any courses, as if you do this after you bookmark any courses, the settings will not apply to your bookmarked courses.
1. Go to your personal business card.
2. Click on the Course Bookmarks application in the application menu. The application will then open.
3. In the navigation area, check the academic year.
4. In the row "Action > Configure", click on Default Settings.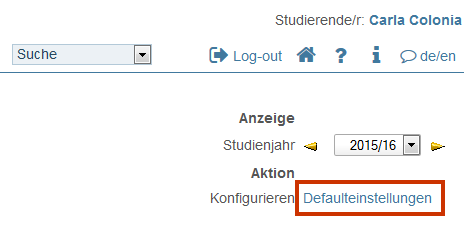 5. The window "Default Setting" will open.
6. Activate functions for which you would like to receive messages about by ticking the box to the right of them.

7. Click on Save and Close.
Adding Course Bookmarks
In the organisation tree, go to the organisation (department, institute etc.) of whose courses you would like to view.
On the business card, click on the

Courses

application in the applications menu. The courses will then be displayed.
Beside each course title, there is a

means that a course is not yet in your bookmark list and can be added.
means that this course is in your list.

.
By clicking on the

Star Symbol

, you can add the course to your bookmark list. By clicking on the

Star Symbol

once again, you remove the course from your list.

Opening Course Bookmarks
Go to your business card.
Click on the Course Bookmarks in the applications menu. The application will open.
In the navigation area at the top right of the page, check on the academic year.
You course bookmarks will then be displayed for the chosen academic year.

Please note: To edit the message settings about a course, click on the Pen Symbol on the very left of the row containing the course title.