Checking Curriculum Contexts
You may check the curriculum context of your course registrations by using the Course Registration application on your personal business card.
1. Click on the Course Registration application in your Application Menu.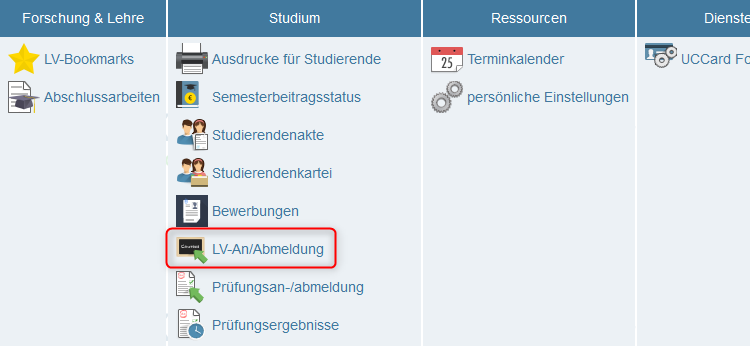 1. The application Course Registration opens. In a tabular view, all the courses you applied for are shown for the chosen academic year. They are sorted by semester.
If you want to check course registrations of earlier academic years, choose the relevant year in the drop-down menu for Academic Year in the navigation area.
Click on the first green arrow () in the column "Part/Exams/Eval/Info" next to the title of the relevant course in order to open the details of your course registration.
Please note: The color of the registration icon indicates the current status of the application period. If it is green (

), you may currently register or deregister for this course. If it is red (

), the application period has ended and a new one has not been entered yet.
3. The window "Course Registration - Course Groups of Course" opens. The table "Current Status" shows the details of your application for this course. In the column "Curriculum Context" you can see the curriculum context that you have chosen for this course.

Please note:
If you are unable to clearly identify the curriculum context by the node title in the column, the identification code in squared brackets may help you. It contains information about the number of the allocated module in your degree programme.