Editing Business Card
You can edit some of the details on your business card yourself. To do this, click on Edit beside "Select" in the Navigation Area.
Please note: You are not obliged to add any additional information or details or to upload an image of yourself to your business card. Please be aware that your business card profile can be viewed by some members of staff (e.g. teaching staff of courses you are registered for).
To upload an image to your business card, please click on Edit. After you have uploaded an image to your business card, you can edit the display options for the image, i.e. whether the image is always visible (always) or for authenticated users only (only to authenticated users).
Please note: The business card picture does not function as your student card image - this has to be uploaded separately. Information about uploading your student card image can be found here.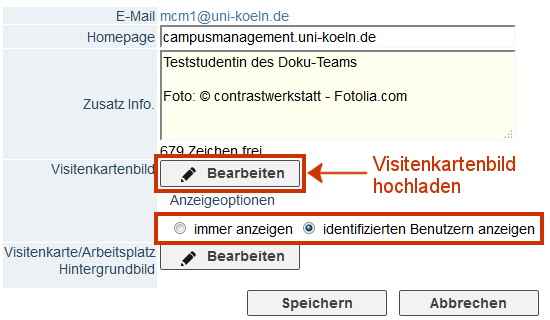 In Personal Settings, you are able to change the settings of, for example, icons, font size etc. in KLIPS 2.0.