Using the Search Function
The search function on the top right-hand side of the page provides different possibilities for looking for teaching staff, courses, organisations etc.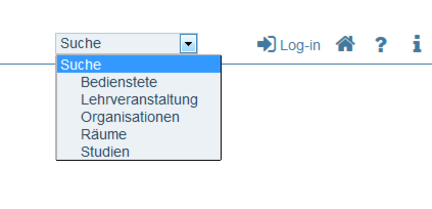 Staff: Names of staff members and their contact details can be found using this search option.
Courses: With this option, you can look for a course according to, for example, the title or the semester it takes place. You can also look for a course according to the time and/or day it takes place. The details of each course are also provided in the result list.
Organisations ( Faculties, institutions, departments etc.): To use this option, you enter a keyword of the name of the organisation. By clicking on the name of an institution in the result list, you will be directed to the business card of the organisation where all relevant contact information is provided. You can also use the organisation tree to go to a organisation.
Rooms: To look for a rrom, you have different search options such as, for example, by looking for a building or organisation.
Degree programmes: Using the option "degree programmes", you can look for degree programmes offered by the University of Cologne. The degree programme option comprises all programmes currently offered by the University of Cologne according the degree awarded. The result list will show all courses that have the keyword you have searched for.
Please note: You do not require the complete name or title of a member of staff, institution, course etc. to find it using the search function. Part of the name, title can be replaced with symbols such as * or ?. If you enter "Sch*" in the search option for a member of staff, a list of all members of staff whose first or surname begins with "Sch" will be provided - it does not matter whether you write names or titles with capital letters.